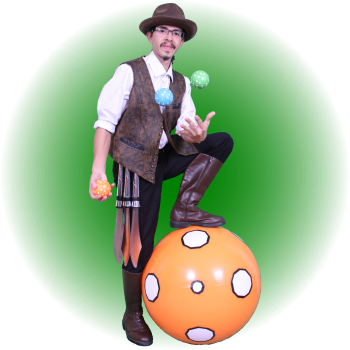 Originating from San Jose Califorina, I have been practicing, performing, and teaching juggling since 2003! Juggling and circus arts are a huge passion of mine that has stayed in my life over the years and has guided me to many places around the world and lead me to meet many amazing friends. I love spreading my passion for juggling to those around me.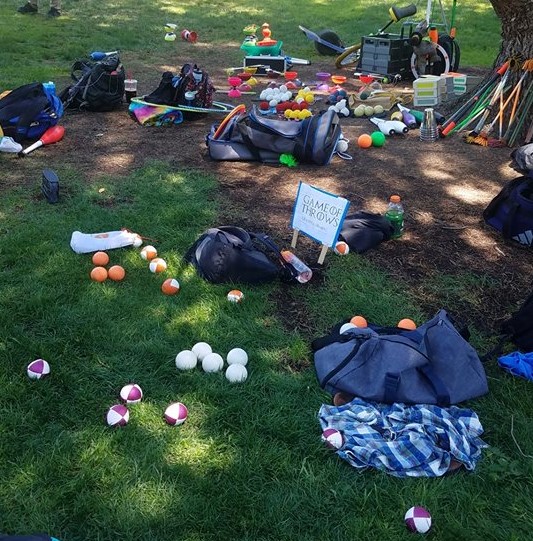 What props do I use?
I have picked up many different forms of juggling including ball juggling, bounce juggling, scarves, clubs ("pins"), contact juggling, boxes, flower sticks, poi, rope dart, yoyos, spin tops, rings, diabolo (chinese yoyo), face balancing, kendama, rola bola, unicycle, and the list keeps growing! I've performed at many events including variety & vaudeville shows, comedy shows, birthday parties, corporate events, weddings, festivals, theme parks, holiday parties, school assemblies, and I have taught at juggling clubs, festivals, after school & summer programs, PE classes, and private groups. I have also picked up various forms of fire juggling including fire rope dart, fire diabolo, and juggling torches.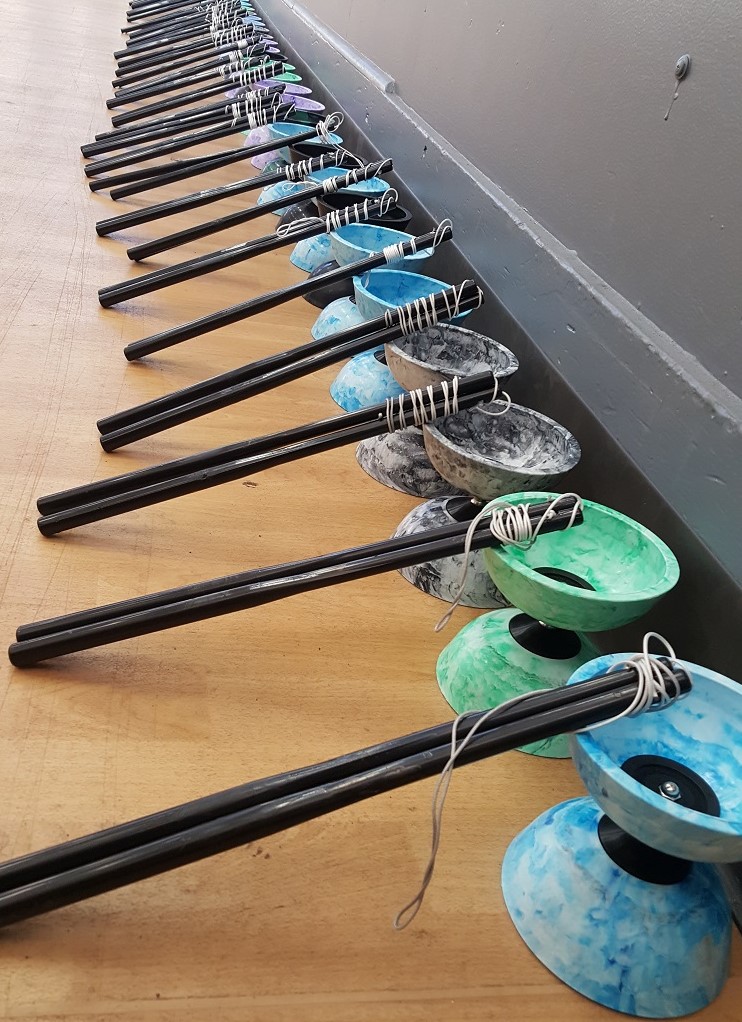 What's a diabolo?
It's one of my favorite juggling props!

A diabolo, also known as Chinese Yo-Yo, is a hundreds year old skill toy originating from China. It's believed diabolo was invented over 2000 years ago and was originally made out of bamboo and other types of wood and would make a whistling sound when spun fast enough.

"Diabolo" originates from the Latin terminology, "diabolus" which people often referred to as as the "devil on two sticks". It has many original names from China, one being "kongzhu" (空竹) which roughly translates to "hollow bell". The term "diabolo" was coined in 1906 by Gustav Philippart who reinvented the design with more modern materials.

In today's day and age diabolos are made out of more durable materials like rubber, plastic, and metal. Diabolo usually consists of 2 sticks connected together with a cord and the diabolo itself which is made up of two cups with an axle in the middle. To this day diabolo is still a big part of Chinese & Asian culture, and through trade has become a popular sport, hobby, and circus art worldwide. As the sport has expanded over the years, so have the tricks being created. There are hundreds of thousands of tricks and styles possible with the diabolo, and the list is still growing!
My History
I first picked up diabolo at Silver Creek High under the teachings of Matt Hall in end of 2003. Matt is a Japanese teacher as well as a professional juggler who travels worldwide teaching and performing, and has been a huge influence in my career. Despite not actually taking his japanese classes, I remember most of my high school days were spent in Hall Sensei's classroom practicing diabolo at break, lunch, and before cross country. Me and the other Silver Creek Jugglers would perform in school events, and every so often go to juggling festivals together. We'd also make videos together and post them on Youtube and other forums like rec.juggling and diabolo.ca. These videos would often feature Matt Hall, Daniel Acosta, Matt Brown, David Pham, Terrence Sanchez, myself, and a few others.

Upon graduating high school in summer of 2008 I thought it'd be a good idea to try and juggle professionally. I came up with the business name Go Draco and stage name Draco the Juggler (named after my bearded dragon at the time). I did very much enjoy going out and performing even though I was very shy at the time. Going into college, I continued doing gigs and parties within the 100 mile radius of San Jose. I'd drive my 1974 Volkswagen Beetle to my events, which I decorated with business logos and the words "The Juggle Bug".

During the first few years of my business I also focused on teaching workshops and performing at juggling festivals throughout California, where I'd get inside tips about professional juggling from friends at the events. These fests inspired me to start and host my own Santa Cruz Juggling Festival through UC Santa Cruz's Rec Department and UCSC Juggling Club in 2009 with JC Sue, Bennett Roesch, and a few others.

The first summer of college was an interesting one. It was the first time I was asked to teach a summer group of 30+ kids juggling, of which I was very excited. I drove up to Berkeley once a week to teach the basics of toss juggling and diabolo. This gig had connected me the year after to teach juggling classes and game design through Academic Talent Development Program Berkeley at the UC. I began selling my own diabolos around this time, after many inquiries about where to buy them at various gigs.

College is also the time where I picked up fire spinning. I would often spin fire at the Cowell Beach Lighthouse with Fire University Santa Cruz on Sunday nights, and 2010 I went to my first fire spinning festival FireDrums. I was lent fire diabolos by Stu Branoff to add to my fire practice, and I was able to modify the, to even use sparklers and smoke bombs for a cool effect. Around this time I also picked up rope dart, initially being introduced by Cosmo Hom at the first Santa Cruz Juggle Fest.

As I became more occupied with college my business shifted less from private party entertainment and more towards teaching. I re-branded my business name to The Spin Force at the start of 2012, and started teaching classes through Santa Cruz Parks and Recreations Department for both game design and juggling as after school programs for Middle and High schoolers. Each session consisted of 6 classes where students would learn the basics. These classes went on until the end of college in 2012.

Upon graduating from UC Santa Cruz with a degree in Computer Science and Game Design my juggling career slowed down. I went to less festivals, and did less gigs. I was focused on working in the gaming industry with my career as a game designer and programmer. For the next few years this took most of my time and the only juggling related things I'd do was go to a few local festivals, practice in my free time, and do a few performances like The Flow Show, Bay Area Circus Arts Fest show, etc.

In fall of 2015 was the first year I started performing at California's Great America for their Halloween Haunt nights. I performed on weekends for 6 weeks doing at least 3-4 fifteen minute shows a night, and returned in 2016 and 2017. Around this time I began manufacturing my own line of LED Diabolo sticks branded as DiaGlo. In 2016 was my first international gig in which I was a special guest for the Madskillz juggling festival where I taught workshops and performed in the public show. 2017 was a very interesting year in which I took a worldwide juggling tour where I traveled to Mexico, Germany, Poland, Iowa, and Iceland teaching and performing and going to various festivals. In the summer of 2017 I left my 5 year job in the tech industry to fully pursue juggling and independent game development as a profession. Since then I have been doing many gigs, travelling all over for festivals, making my own game concepts and living my life as a small business owner.
Read my blog